Crab Rangoon is a universally-beloved appetizer that is a staple at many Chinese restaurants. Make this delicious treat at home with this easy Crab Rangoon recipe.
Ingredients 16 ounces light cream cheese, softened 1 can crab meat, drained and crumbled 2 green onions, chopped 1 clove garlic, minced 2 teaspoons Worcestershire sauce 1/2 teaspoon soy sauce 1 package Wonton skins Vegetable spray coating
Read more at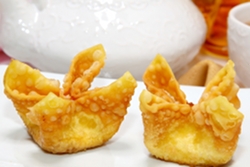 Instructions
In medium bowl, combine all ingredients except won ton skins and spray coating; mix until well blended. (To prevent won ton skins from drying out, prepare one or two rangoon at a time.) Place 1 teaspoon filling in center of each won ton skin. Moisten edges with water; fold in half to form triangle, pressing edges to seal. Pull bottom corners down and overlap slightly; moisten one corner and press to seal. Lightly spray baking sheet with vegetable coating. Arrange rangoon on sheet and lightly spray to coat. Bake in 425 degree F oven for 12 to 15 minutes, or until golden brown. Serve hot with sweet-sour sauce or mustard sauce.